McComb family connections
---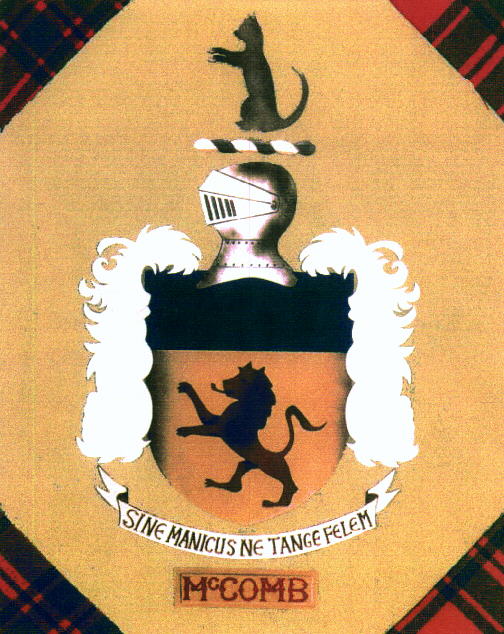 My mother's maiden name was Muriel Evelyn Mary Kellett McComb. She was an only child, but my brother and his son carry on the McComb name as a Christian name. Kellett is a family name from 3 generations earlier.
Her father, Arthur William Evelyn McComb, a Church of England clergyman, was born in Beccles, Suffolk in 1883 and died in Norwich in 1939.
Her grandfather, William Taylor McComb, was born about 1851 probably in Dublin, Ireland, and was a physician and surgeon in Beccles. He died in 1902.
Her great grandfather, William McComb, lived in Dublin, Ireland, and was said to be a Merchant when he married in 1847.
---
The Dictionary of National Biography lists one McComb: these are the highlights of the entry.
McCOMB, William (1793-1873). Poet.
Born 17 Aug 1793 in Coleraine. Son of Thomas, draper. Mother's name FOSTER.
Apprenticed to Thomas O'Neill, Belfast draper. Teacher at Brown Street School, Belfast. From 1829, bookseller High Street Belfast. 1840 started McComb Presbyterian Almanac. 1840 retired. 1873 (13 Sept) died at home (Colin View Terrace, Belfast) and interred at Hillsborough.
Married twice: 1816 Sarah Johnson Hillsborough (died 1827) and 1830 Eliza Barkly, widow of Captain Robert Walkinshaw Campbell. Several children.
(Written up in McComb Almanac 1874)
It seems that the origin of the McComb name is Scottish: apparently it is a branch of McThomas and I've also heard that there is a connection with Holmes. The following sites give further details of McComb genealogy. The first includes a map showing migration around Scotland and over to Ireland:
---

Back to Peter's page.......

Top of this page
---
[ Main page | Jamie's page | Peter's page | Dogs' page ]
---
Page design © 2003 Peter Brunning / / 23rd September 2009