Kellett family
---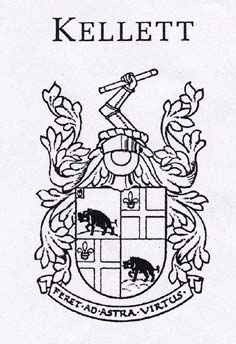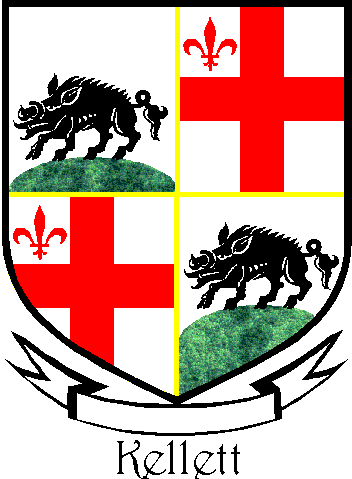 For Irish coats of arms - see
Coats of Arms in Ireland and from around the world
---
My mother's maiden name was Muriel Evelyn Mary Kellett McComb. Kellett is a family name from 3 generations earlier: her paternal grandmother was Evelyn Augusta Kellett Melhado (1856-1941) and Evelyn's mother was Jemima Hunter Kellett (1827-1902). Jemima was the daughter of Captain Robert John Napier Kellett (1797-1853) and Jemima Hunter (c.1804-1854). (The Hunters were from Ayr, probably connected with the Hunters of Abbotshill. An interesting history of the Hunter family can be found here.)
Jemima and her two unmarried sisters are mentioned in the Kellett section of Burke's Peerage and Baronetage: the first baronet was their great uncle, Sir Richard Kellett. He was a Sheriff and then Mayor of Cork in 1783. There is a brief description of a house he owned here and his library is mentioned in In Search of Cork's Collecting Traditions Part 4.
Robert's father, William Augustus, Sir Richard and another Richard Kellett (probably their father) were in partnership with Sir James Cotter in a bank in Cork, as listed in the Cork Directory for the year 1787. In 1809, the bank defaulted: in 1820 an Act was passed in the House of Lords to finalise the matter.
In the latter part of the 1880s, some of the Kelletts were living in Dublin near the Grand Canal. In the 1879 Thom's Irish Almanac Sir William H. Kellett is shown as 19 Mespil Road, while on the opposite side of the canal at 1 Wilton Terrace is Captain Melhado, who was married to Jemima Hunter Kellett. Their daughter, Evelyn Augusta Kellett Melhado, married William Thomas McComb, who lived nearby.
My mother spoke of a Napier connection: this is confirmed by some of the Christian names. It appears that the two families both lived in Kilbarchan, Renfrewshire.
Some of the Kellett family history is Irish: old documents relating to property in Glasgow have addresses in Dublin and London. Other family members seem to have lived in both Scotland and Ireland, as well as places in mainland Europe.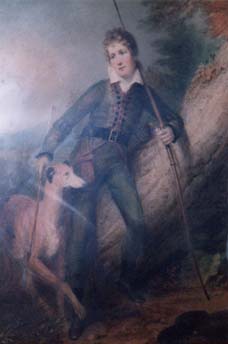 Augustus Henry Kellett (Jemima's uncle)
Enlarge

Augustus Henry Kellett was Robert's brother. He was in the Royal Navy: the service record shows that he was born in 1793. A note on the back of the portrait shows that he died in 1828. He is mentioned in the Naval History of Great Britain (new edition 1837), Volume VI - there's a copy on Google books
The enemy occupied a stockaded position near Annauben, and likewise held possession of the pagoda of Keykloo; these situations are about 14 miles distant from Rangoon. It was judged necessary to dislodge them, whilst another detachment, under Major Thomas Evans, was despatched to Than-ta-bain to make a simultaneous attack upon that strong position, which was 30 miles distant from Rangoon. The best reference to the active part taken by the navy is to be found in Major Evans's letter to the commander-in-chief; whilst the latter, in speaking of the meritorious exertions of the officers and seamen, pays the highest compliment to Captain Chads. The naval officers who were fortunate enough to participate in this expedition against Than-ta-bain were Lieutenants William Burdett Dobson, Augustus Henry Kellet, and George Goldfinch; Mr. Lett, master's mate, Messrs. James Ward Tomlinson, Archibald Reed, George Winson, Charles Mitchell, and Robert Murray, admiralty midshipmen. Captain Chads speaks highly of Lieutenants Kellet, Goldfinch, and Dobson, and gives great credit to Mr. Winson of the Sophie, who had on this and on almost every occasion charge of the steam-boat.
I learned more about the Kelletts from a lady in Australia, Pam Abikhair, who knew a great deal about the Kellett family. She told me about some very interesting ancestors, including a third cousin Sir Henry Kellett, K.C.B. (1806-1875), Vice-Admiral, whose portrait is in the National Picture Gallery. He was born in the family home Clonacody House in Fethard in 1806. Henry Kellett was an explorer of the Canadian Arctic and has an entry in the Dictionary of Canadian Biography. His exploits, and his ship HMS Resolute, are quite well documented online, for example: