William Thomas Brunning & family
---
William Thomas Brunning was born in Sudbury, Suffolk in June 1844. He moved to London and married Hannah Warren on 12th Sept. 1875 in Leytonstone, Essex. Hannah was born in Great Ilford on 25th March 1854 - they had 10 children. The family lived in an area of North London known as Kingsland or De Beauvoir Town built around De Beauvoir Square. The oldest children were born while they lived at 71 Southgate Road and later they moved to 6, Ufton Road. The house in Ufton Road has been re-built but the one opposite probably looks much the same today. An interesting overview of Victorian Hackney can be found here.

It was here that they were living at the time of the 1881 and 1891 censuses. Hannah's mother (also Hannah) is shown living with them on both occasions and lived until 15th April 1907 - she was "in her 96th year" according to her mourning card. William died nearby at his son's house in the Isledon Road on 25th August 1921 and Hannah on 14th October 1922: they are buried in Abney Park Cemetery in Stoke Newington, one of London's magnificent seven cemeteries.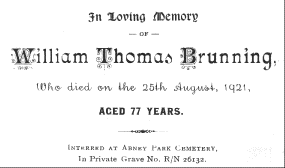 Their family all lived to a good age. My grandfather, Sydney John, was born on 9 Nov. 1883 and died in Sunningwell near Oxford in Dec. 1969.
The others, born between 1876 and 1891, were: Edith Hannah 27 Jan. 1876, Rose Harriet 1877, William Edward 7 Nov. 1878, Ada Elizabeth 18 Sept. 1880, Albert James 1882, Ethel 7 July 1885, Philip Ernest 1887, Percival Thomas (stage name Harry) 1889, Lillian Daisy 17 Nov. 1891. Here are some old pictures. A good part of Ethel's upbringing was with her grandmother and maiden aunts in Sudbury - here are some pictures of Aunts Harriet and Rosina. Her son Wilfred wrote this biography of his parents.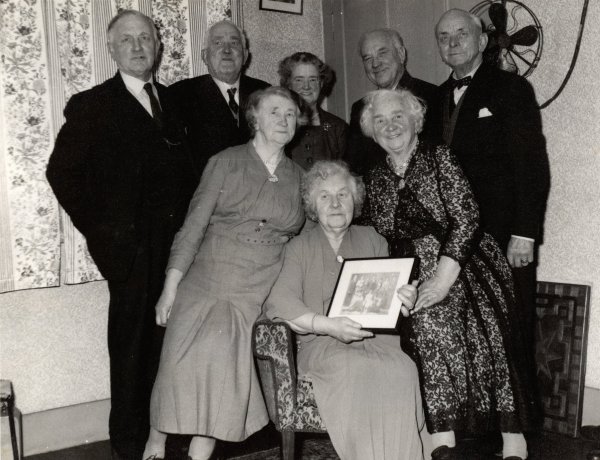 The picture shows them all, except William (who died in 1936) and Ada (who died during the war)
- gathered at Edie's home in Doughty Mews for her 85th birthday in 1961: a newspaper report calculated the total age as 606!
Philip - Sidney - Lil Warren - Percy - Albert
Ethel Norfolk - Rose Welford
Edie Kelly

---

Back to Peter's page.......

Top of this page
---
[ Main page | Jamie's page | Peter's page | Dogs' page ]
---
Page design © 1999-2019 Peter Brunning / / 27th March 2019