Sydney John Brunning & family
---
Sidney John Brunning was born in Ufton Road Hackney London on 9th Nov. 1883 - on his birth certificate the name was spelt Sydney but he was usually known as Sidney. He married Clarisse Lillian ("Daisy") Banter on 5th Aug. 1912 at St. Peter's Hackney. This is their wedding photo.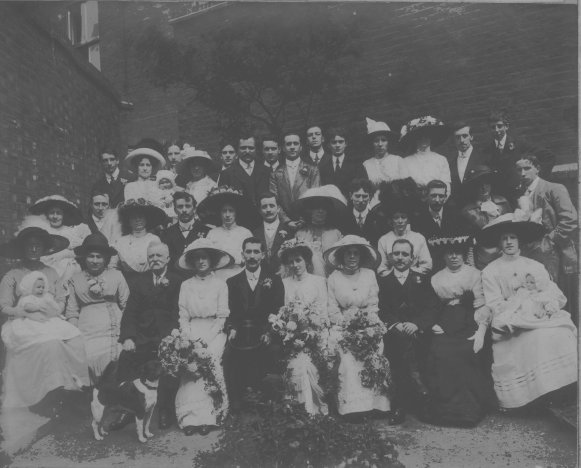 Click to enlarge
They lived in the area - in Spurstowe Road and Jenner Road - until they moved to Banstead in 1933. He worked nearby for John Carter & Sons in Kingsland Road from leaving school until he retired, with a short break for military service in the Royal Flying Corps during the Great War. The Hackney Archives have some records of the company:
John Carter apparently started trading in 1847 and were by 1850 established at 38 Kingsland Road (renumbered 58 in 1866)... Incorporated in 1896 as 'Curesses and leather merchants, factors, manufacturers, grindery and shoe mercers, dealers, boot upper and boot and shoe warehousemen, agents, factors and manufacturers.'
It appears that Sidney Brunning started on 26 October 1897 when he was paid 6/- weekly, 1898 7/-, 1899 9/-, 1900 12/-.

During the First World War, he joined the Royal Naval Air Service on 25 September 1916, was transferred to the RAF on 1 April 1918 and the reserve on 14 May 1919. His service number in the RN was F21031 and the RAF 221031. He served in HMS President II in Crystal Palace and Paris. HMS President II is a 'stone frigate' or shore-based office and was apparently the accounting base for the RNAS. See Wikipedia. He probably followed his civilian occupation of (ledger) clerk.

When he returned to Carters from the Great War in 1919 he was paid £200 per annum which was raised to £230 in December and £250 p.a. in 1920. By 1924 he was paid £25/-/- per month, which rose to £30/-/- a month between 1929 and 1940. He also received a Christmas box: the records show 1898 2/6, 1899 5/-. I remember he was always invited to a dinner and given a turkey at Christmas even in retirement. I think this is a photo of such a dinner: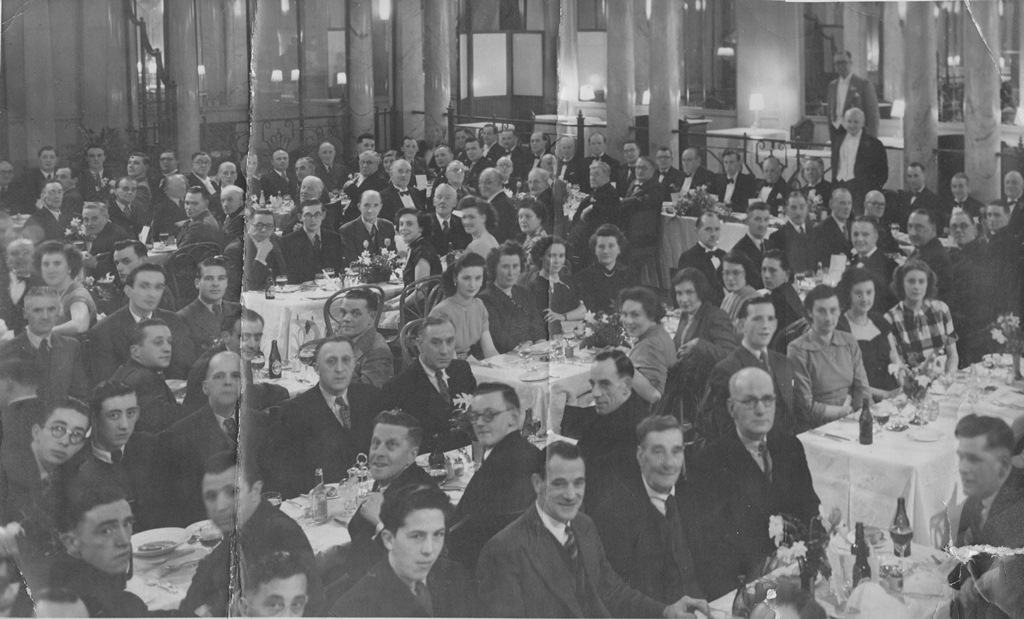 He lived with us in Sunningwell near Oxford for a few years at the end of his life: this is the family in 1966.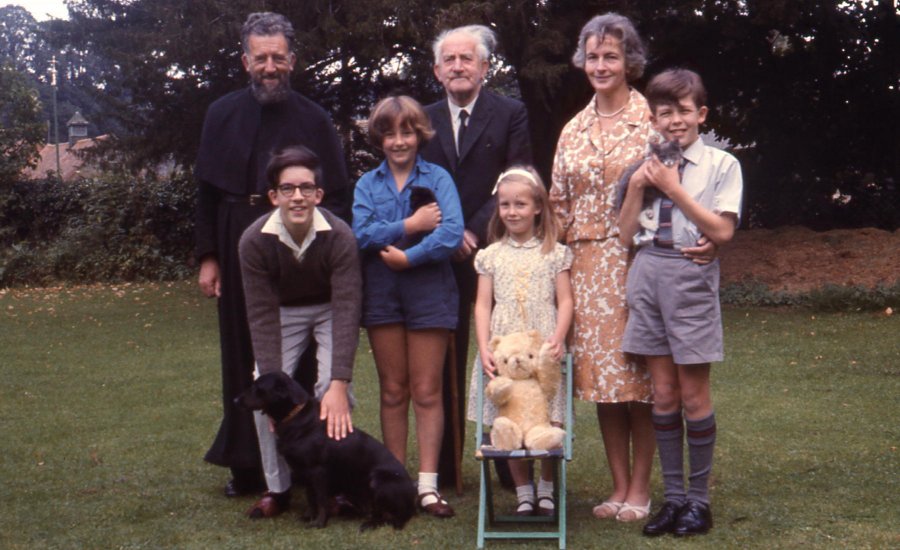 He died in Sunningwell on 23rd Dec. 1969. He and his wife are buried in Banstead where they lived (at 100 Brighton Road) after moving from London.
Their only child, my father, Sidney John George - known initially as Sidney but later as John - was born in Hackney in 1913.
---

Back to Peter's page.......

Top of this page
---
[ Main page | Jamie's page | Peter's page | Dogs' page ]
---
Page design © 1999 Peter Brunning / / 23rd July 2016