Dr Jonathan Kasstan, Leverhulme Early Career Fellow (Queen Mary University of London)
HOME | PUBLICATIONS | CONFERENCE PAPERS | PROJECTS | BLOG | AFLS 2014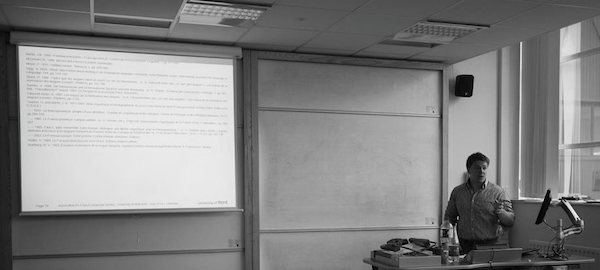 Current projects


Swiss Islands in North America (SINA) was established as a research network on 20 June 2016 with the intention of pooling research expertise, resources, and interests to investigate Swiss languages and Swiss identity in North America. The network is made up of a team of international collaborators from the Université of Lausanne (CH), Ludwig-Maximilian Universität München (D), Universität Salzburg (A), Queen Mary University of London (UK), and the University of Wisconsin in Madison (US).

Using a range of sociolinguistic methods (dialectology, variationist sociolinguistics, historical sociolinguistics, multimodal platforms), the SINA research network is principally interested in the mechanisms associated with language maintenance and shift in the Swiss diasporas and the role that identity preservation plays in these processes.

Switzerland has a long tradition of multilingual policies and practices. Multilingualism is safeguarded by Article 116 of the Constitution, which stipulates that German, French, Italian and Rumantsch 'sont les langues régionales de la Suisse' ('are the regional languages of Switzerland') whereas German, French and Italian are 'langues officielles de la Confédération' ('official languages of the Confederation'). There are, however, language gaps not covered by Article 116: endangered regional minority languages such as Francoprovençal (often called simply 'patois') or Ticino have no status under the Constitution, and are therefore not accorded the same privileges and resources as, say, German or French. This is in spite of the fact that Switzerland has both signed and ratified the Charter for Regional or Minority Languages, guaranteeing rights to minority groups, cultures, and languages.

Remarkably, in addition to Swiss French and German, Swiss endangered languages such as Francoprovençal are being maintained in North America, in diaspora communities by heritage speakers. These communities have survived generations of language contact with English. Questions of interest to the SINA team relate to how these languages have been maintained? Have these languages undergone structural changes that differ from changes in the homeland languages? How is Swiss identity transplanted to these communities?

Project coordinators
Anita Auer (Université de Lausanne)
Aris Xanthos (Université de Lausanne)
Jonathan Kasstan (Queen Mary University of London)
Guido Seiler (Ludwig-Maximillian Universität München)
Stephan Eslpaß (Universität Salzburg)

Outputs
For a list of conference papers and articles resulting from the project, see the project website.






Copyright © 2014-Present – Jonathan R. Kasstan