Dr Jonathan Kasstan, Teaching Fellow in Sociolinguistics (Queen Mary University of London)
HOME | PUBLICATIONS | CONFERENCE PAPERS | PROJECTS | BLOG | AFLS 2014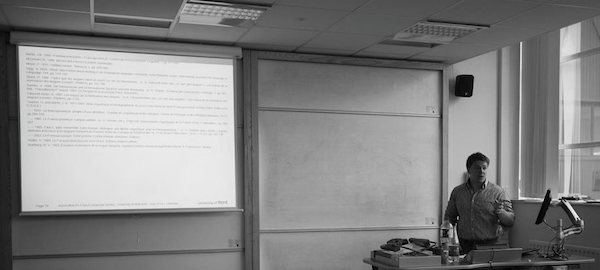 About
M.Phil (Cantab), PhD (Kent), FHEA. Variationist sociolinguist with research interests in Romance languages, language contact phenomena (esp. language death theory), and, broadly, phonetics and phonology. My PhD focused on language variation and change in Francoprovençal - a regional language spoken in parts of France, Switzerland, and Italy. Some 50 hours of speech samples were collected from over 60 research participants in both les monts du Lyonnais and the Canton of Valais. My thesis (defended in July 2015) addressed a number of research questions that relate to linguistic change in obsolescent dialect communities. I am particularly interested in the social network model of diffusion and change.
From 2011-2014 I held the post of Graduate Teaching Assistant at the University of Kent, where I taught courses in phonetics, phonology, sociolinguistics, and syntax. During the academic year 2014-2015 I held two posts simultaneously: I was Associate Lecturer in the Department of French at the University of Kent, where I taught introductory linguistic theory, and also held the post of Maître de langue in the Département du monde anglophone at the Université Sorbonne Nouvelle – Paris 3, where I taught courses in applied phonology. I currently hold the position of Teaching Fellow in Sociolinguistics at Queen Mary University of London.
I am currently a Senior Visiting Fellow in Linguistics at the University of Suffolk, and an Honorary Research Fellow at the University of Kent. I am also Co-editor (2015-Present) of the Association for French Language Studies sister-journal Cahiers. I was Secretary to the Student Committee for the Linguistics Association of Great Britain (LAGB) from 2013-2015. I am currently a member of the Cambridge Endangered Languages and Cultures Group (CELC), the Standard Language Ideology in Contemporary Europe (SLICE) network, and the European Cooperation in Science and Technology (COST) Action IS 1306 'New Speakers' network.
Contact
For all queries, including: speaking engagements, expertise requests, consulting offers, media interviews, please contact jrkasstan A cantab POINT net.





Copyright © 2014-Present – Jonathan R. Kasstan