Help and Advice
How can we help you?
Getting Started
How do I?
About Our Accounts
Something's Wrong...
What does this mean?
Alumni Announcements
27 May, 3.45-5.30pm
Join Cambridge academics and alumni speakers including Astronomer Royal Professor Lord Rees, Professor James Jackson, Master of Clare Professor Tony Badger and Hay Festival founder Peter Florence (Jesus 1983) for a sumptuous afternoon tea.

Find out more or book online


Looking for something really special to mark someone's time at Cambridge? Consider a customisable fine pen from the range specially designed by the Onoto Pen Company.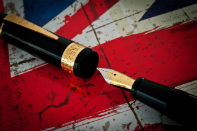 Find out more about the Cambridge pens