Dr Jonathan Kasstan, Lecturer in French and Linguistics (University of Westminster)
HOME | PUBLICATIONS | CONFERENCE PAPERS | PROJECTS | BLOG | AFLS 2014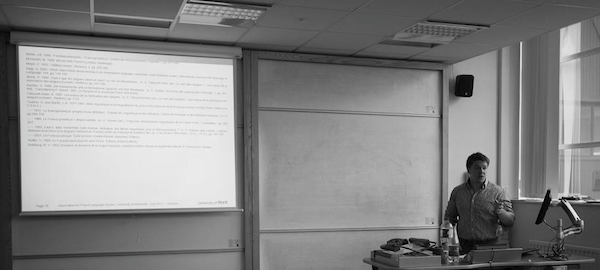 Recent
The Economist, August 2020: Elocution lessons?
English Today, 'Reconsidering the variable context: A phonological argument for (t) and (d) deletion', 36(3): 6-13. [PDF].
Language in Society, 'Emergent sociolinguistic variation in severe language endangerment', 48(5): 685-720 (https://doi.org/10.1017/S0047404519000472). [PDF].
About
MPhil (Cantab), PhD (Kent), FHEA. My research interests broadly fall within quantitative and qualitative sociolinguistics, with a particular focus on language variation and change, and language death theory. My PhD thesis (publicised in the journal French Studies Bulletin) explored language change among French and Swiss speakers of Francoprovençal: a severely endangered regional language that has been the subject of very little empirical investigation. Using a corpus of over 50 hours of speech samples collected from 58 research participants in 2012, the study found that, broadly, traditional features used by older speakers were converging on patterns associated with the dominant contact language. This finding is broadly consistent with the literature on other regional minority languages spoken in the same regions. However, the study was also concerned with so-called 'new speakers' of Francoprovençal, who acquire the language in an educational context, rather than via the home. The evidence suggests that a pan-regional linguistic norm is emerging among these new speakers, who employ variants that are not only different from traditional norms, but also appear to convey social work. New speakers therefore reveal themselves to be agents of linguistic change as well as important arbiters in the maintenance of a threatened language. Findings from the study have appeared in a number of journals, including a special use of the International Journal of the Sociology of Language (Kasstan and Nagy eds. 2018, issue 249). Details of current projects that I am involved in can be found here. I currently hold a Leverhulme Trust Early Career Fellowship (ECF-2017-584, 2017-2020).
I was appointed as Lecturer in French and Linguistics at the University of Westminster in January 2019, where I am completing my Leverhulme project. Prior to joining Westminster, I lectured at Queen Mary University of London from 2015, predominantly in quantitative and qualitative sociolinguistics and research methods. Before arriving at Queen Mary, from 2014-2015, I held two posts simultaneously: I was Associate Lecturer in the Department of French at the University of Kent, where I taught introductory linguistic theory and sociolinguistics, and I also held the post of Maître de langue in the Département du monde anglophone at the Université Sorbonne Nouvelle – Paris 3, where I taught courses in applied phonology and linguistic variation.
I am currently a Senior Visiting Fellow in Linguistics at the University of Suffolk. I was Co-editor (2015-2020) of the Journal of French Language Studies' sister-journal Cahiers,and I am now (2021-Present) Research Notes Editor on the Board of the Journal of French Language Studies. I sit on academic executive committees for the Linguistics Association of Great Britain (External Relations) and the University Council of General and Applied Linguistics (Treasurer).
Contact
For all queries, including: speaking engagements, expertise requests, consulting offers, media interviews, please contact jrkasstan A cantab POINT net.
Address
School of Humanities
University of Westminster
309 Regent Street
London, W1B 2HW





Copyright © 2014-Present – Jonathan R. Kasstan