Dr Jonathan Kasstan, Lecturer in French and Linguistics (University of Westminster)
HOME | PUBLICATIONS | CONFERENCE PAPERS | PROJECTS | BLOG | AFLS 2014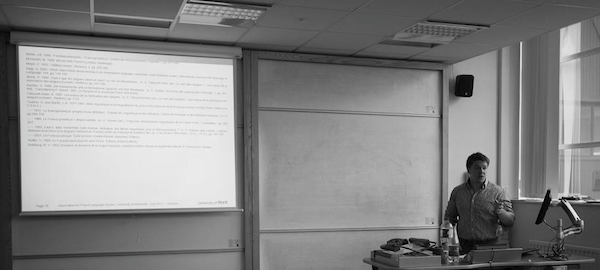 Recent
The Economist, August 2020: Elocution lessons?
Rodríguez-Ordóñe, I., Kasstan, J. R. and B. O'Rourke (2022). 'Responding to sociolinguistic change: New speakers and variationist sociolinguistics', International Journal of Bilingualism, OnlineFirst. (https://doi.org/10.1117/13670069221110381). [PDF].
Chong, A. and J. R. Kasstan (in press). 'Acoustic characteristics of fricatives in Francoprovençal (Nendaz)', Journal of the International Phonetic Association.
About
MPhil (Cantab), PhD (Kent), FHEA. I am a Lecturer (Assistant Professor) in French and Linguistics at the University of Westminster with a research focus on language variation change in lesser-studied languages. Much of my work has focused on testing principles of linguistic change in diverse linguistic ecologies, and on disparate speaker types (new speakers, heritage speakers, illiterate speakers etc.). Much of my work has focused on this interface in Francoproven&ccedile;al in particular. I am currently involved in a number of ongoing research projects in sociolinguistics, including Universals of Grammatical Change in Language Obsolescence (funded by the Leverhulme Trust, ECF-2017-584, 2017-2020), and the Linguistics in MFL Project (funded by UKRI Arts and Humanities Research Council's Open World Research Initiative – Language Acts World Making). I am happy to receive supervisor requests in any of these areas area.
Prior to joining Westminster, I lectured at Queen Mary University of London from 2015, predominantly in quantitative and qualitative sociolinguistics and research methods. Before arriving at Queen Mary, from 2014-2015, I held two posts simultaneously: I was Associate Lecturer in the Department of French at the University of Kent, where I taught introductory linguistic theory and sociolinguistics, and I also held the post of Maître de langue in the Département du monde anglophone at the Université Sorbonne Nouvelle – Paris 3, where I taught courses in applied phonology and linguistic variation.
I am currently a Senior Visiting Fellow in Linguistics at the University of Suffolk. I was Co-editor (2015-2020) of the Journal of French Language Studies' sister-journal Cahiers,and I am now (2021-Present) Research Notes Editor on the Board of the Journal of French Language Studies. I sit on academic executive committees for the Linguistics Association of Great Britain (External Relations) and the University Council of General and Applied Linguistics (Treasurer).
Contact
For all queries, including: speaking engagements, expertise requests, consulting offers, media interviews, please contact jrkasstan A cantab POINT net.
Address
School of Humanities
University of Westminster
309 Regent Street
London, W1B 2HW





Copyright © 2014-Present – Jonathan R. Kasstan