Muriel Alice Sophia OSMAN
---
My mother's mother was born Muriel Alice Sophia Osman at 84, Hollydale Road, Camberwell, London on 30th June 1879 and died in Norwich in 1940. Her father was James Edmund Osman, a commercial traveller, and her mother Annie Maria née Wilcocke. She had a sister Gertrude and a brother Walter James.

She had cousins in New Brunswick Canada. We have some photographs of her visit there: she is on the left below.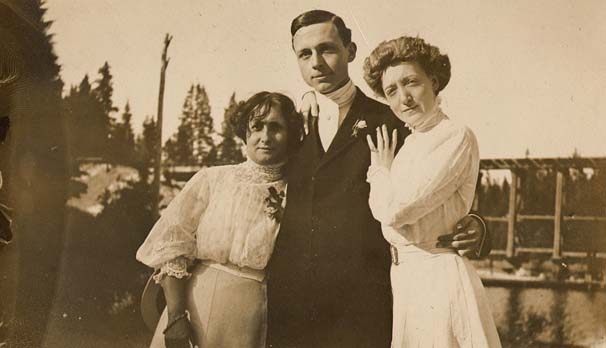 It seems very likely that the man is her cousin Conrad, the son of her father's brother Charles Joseph Osman. Charles Joseph Osman married Laura Esther TOMKINS who bore him 2 children: Conrad Joseph (1877-1948) and Mary Sophia (1879-1895)
Muriel married Revd. Arthur William Evelyn McComb in Croydon in 1910. I believe it was while Muriel was visiting her cousins that she met her husband: during the time when he was - to quote Crockford's clerical directory:
"Miss. at Hopewell w Hillsborough and Harvey, N.B. 1909-11"
Muriel died at home in Norwich on 15 January 1940, a few months after her husband. This is a report from the local paper.
---

Back to Peter's page.......

Top of this page
---
[ Main page | Jamie's page | Peter's page | Dogs' page ]
---
Page design © 2001-4 Peter Brunning / / 5th March 2004