Reverend Sidney John George Brunning
---
My father, Sidney John George Brunning, was born in Hackney on 15th June 1913. His parents were Sydney John Brunning and Clarisse Lilian ("Daisy") Banter. After studying at the Mercers' School*, High Holborn, London, he worked for the London County Council in County Hall Westminster (now an hotel) until the Second World War. As a conscientious objector during the War, he worked on the land.
---
After the War, he returned briefly to his old job. However, he had decided to study Theology and join the Church. Around the same time, he decided that he would prefer to be known by his second name, John. In 1946, he started his studies at Ely Theological College and was ordained a Church of England clergyman: as a deacon in June 1949 and as a priest a year later. His entry in Crockford's Clerical Directory reads:
BRUNNING, Sidney John George. b 13. Ely Th Coll 46. d 49 p 50. C Aldershot St Mich Guildf 49-51; C Clacton St Jas Chelmsf 51-55; R Sunningwell Ox 55-81; rtd 81; Perm to Offic Nor 81-95.
He was ordained in Guildford Cathedral and served his first curacy at St Michael the Archangel Aldershot in the Guildford diocese. It was at Aldershot that he married Mary McComb in June 1950. In 1951, he moved to serve a second curacy at St. James, Clacton-on-sea, Essex. He then moved in 1955 to his first and only parish - St. Leonard's Sunningwell near Oxford.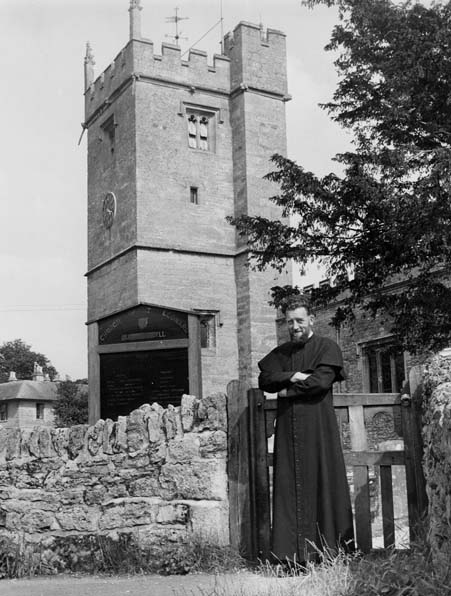 St. Leonard's Sunningwell and Rev. S.J.G. Brunning
---
He retired in 1981 but continued to help out at the local church in West Runton after retirement. He took charge of the church for a while during an interregnum.
Mary and John moved to Eastcotts Nursing Home near Haverhill Suffolk in January 1994. She died there in December 1996 and he died on 13th November 2002.
---
* Mercers' School was based at an historic site in Holborn - see Mercer's School.
---

Back to Peter's page.......

Top of this page
---
[ Main page | Jamie's page | Peter's page | Dogs' page ]
---
Page design © 2002-8 Peter Brunning / / 28th Dec 2008