Categorically Cardiff:
Derived Categories and Algebraic Geometry
18th October 2013 (Fri), Cardiff University
Organiser: Timothy Logvinenko
---
This is a one-day meeting on topics in algebraic geometry, intended to kick off the organiser's days in Cardiff and as herald of the meetings to come. The choice of talks tries to be fully faithful to the research interests involved.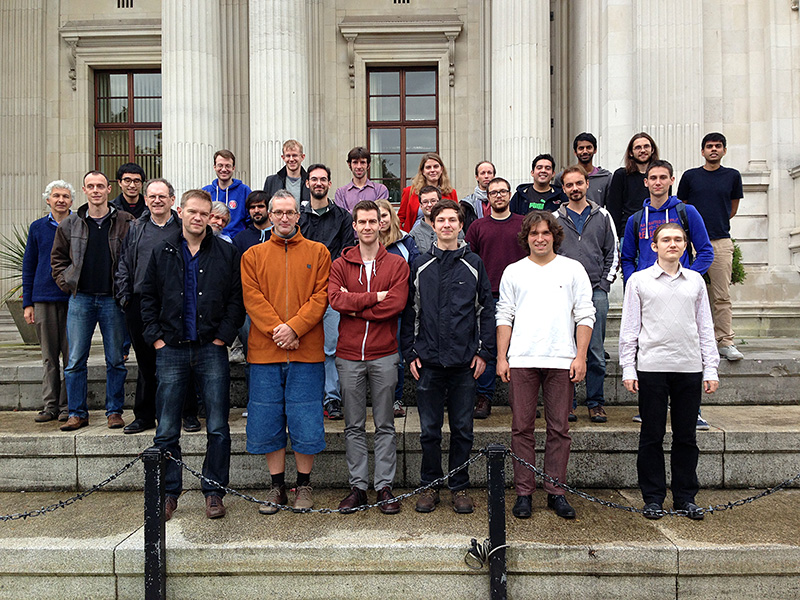 Talks:
Abstracts
Poster
10:00 - 11:00 Ivan Cheltsov (Edinburgh) "Asymptotically log Fano varieties" talk notes (PDF)
11:00 - 12:00 Alastair Craw (Bath) "The Cardiff Conundrum" talk notes (PDF)
** Lunch **
14:00 - 15:00 Miles Reid (Warwick) "Clusters, quivers, boats and traps"
15:30 - 16:30 Richard Thomas (Imperial) "Counting curves in 3-folds and K3 surfaces" talk notes (PDF)
17:00 - 18:00 Timothy Logvinenko (Cardiff) "On braiding criteria for spherical twists"
All talks will be in Glamorgan Council Chamber, Glamorgan Building, Cardiff University.
The talks will be followed by a small reception and a dinner.
Everyone is welcome to take part. Limited financial support is available for research students.
If you wish to attend, or for any further information, please write to:
LogvinenkoT at cardiff ac uk
---
Related UK activities:
COW Algebraic Geometry Seminar

@

Cardiff, Oct 17th (Thu)


14:00 - 15:00 Michael Groechenig (Imperial) "Higgs bundles and crepant resolutions" talk notes (PDF)
15:30 - 16:30 Sebastian Franco (Durham) "Bipartite field theories: from QFT to algebraic geometry, combinatorics and cluster algebras"
17:00 - 18:00 Will Donovan (Edinburgh) "Noncommutative deformations and 3-fold flops" talk notes talk slides (PDF)
---
@

School of Mathematics, Cardiff University, Senghennydd Road, Cardiff, CF24 4AG, UK
The meeting is supported by an LMS Conference/Celebrating New Appointments grant, the School of Mathematics at Cardiff University and Wales Institute of Mathematical and Computational Sciences (WIMCS)