Back cover of Pennick, Daddy Witch and Old Mother Redcap
{Back cover = 12}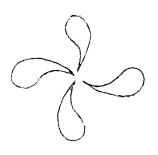 This paper is published on behalf of the Cornerstone Press by the New Propagators of Pagan Knowledge to commemorate the lives and works of all of the Old Mother Redcaps, past, present and future, at Samhain in the year after Teutoburg 1976 (1985 common era).
Communications to the author, Nigel Pennick, should be made, accompanied by a stamped, self-addressed envelope, to Full address suppressed in Web version, Bar Hill, Cambridge CB3 xxx, East Anglia, England.
Further copies of this publication are available from the same address, price 50p including postage and packing, cheques or postal orders to be made out to PRACTICAL GEOMANCY.
Further information on these wise women, cunning men, and other practitioners of the Elder Faith is welcome.
Copyright © 1985/ © 1976 aT NIGEL PENNICK.