Chronology of T.H. White's The Goshawk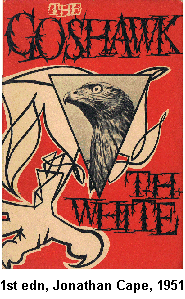 White kept The Goshawk to himself for ten years and, when Cape got hold of the typescript by accident, was very reluctant to let them publish it (see T.H. White: a biography by Sylvia Townsend Warner). He was persuaded by his friend David Garnett, who wrote to Cape, "I think this is really Tim's best book." Yes. But when did it all happen?
Although in England Have My Bones White had noted the exact date of each entry, in The Goshawk he gives only the day of the week. That suits the mood of the book: "Each day became an era, lost all contact with the calendar." Nevertheless, as a matter of curiosity (for it is of no real importance) one can work out the date of each entry in Parts 1 and 2. Page numbers below refer to the first edition.
"It was two years ago" says White (page 15); and there is a footnote, repeated in later editions, "In 1937". But from internal evidence one can see that the chief events of the book took place in 1936.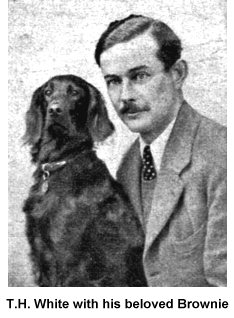 Page 177: "… like Mr. McMahon, to go out and have a shot at the King whom we then professed to love." George McMahon threw a loaded revolver in front of Edward VIII on 16 July 1936 (reports that he had fired it were untrue). Edward VIII was king in 1936 only.
The dates of full moon fit 1936 but not 1937.
On page 34, entry for Thursday, "It was the end of July"; and on the following Wednesday there was "a full, pale moon" (page 50) which set at dawn (page 53). In 1936 the only dates that fit are Thursday 30 July and Wednesday 5 August. In 1937 there are no dates that fit.
From this, the reader who thinks it worth while may work out the dates of all the other entries. Two things remain rather puzzling.
Page 62: "I got the idea into my head that the hawk had been in his mews for three weeks when the actual time was really a fortnight." But the hawk had been in his mews for three weeks. White probably means that the training had been going on for a fortnight; before starting in earnest he waited for six days (three of which have no entries in the book).
Page 155, Tuesday: "I noted that my great namesake of Selborne defined September 15th in his Naturalist's Calendar with the few words: 'Ivy fl., starlings congregate.' And so they did." Anyone reading this entry might assume that it was made on 15 September, whereas counting from the known dates gives Tuesday 8 September. Has a week been missed out somewhere? This possibility can be tested with the help of the Times Digital Archive.
Page 159, Thursday: "Tom, in high good humour because it was raining on the day when he had to serve at the Agricultural Show …". If there is a missing week, this is Thursday 17 September and the Thame Agricultural Show, which the Times next day said was "favoured with fine weather". If not, it is Thursday 10 September and the Princes Risborough Agricultural Show, for which the Times reported "heavy rain during the morning". So there is no missing week.