The So-called Tregerthen Horror
Background
Paul Newman spent many years investigating the death of Katharine Arnold-Forster who died in the home of Gerald and Ellaline Vaughan in the early hours of Monday, the 23rd May 1938, aged only 51. (Mrs Arnold-Forster was usually known simply as Ka.) Newman claims that Gerald Vaughan and his wife were devil-worshipping, drug-taking, sexual deviants who were indirectly responsible for Ka's death. Newman's account has convinced many people. One of the most recent versions of his narrative is to be found on the CornwallLive website by the photojournalist Greg Martin who also wrote an article along the same lines for the Daily Mirror which was published on the 22nd of October 2018. Natasha Wynarczyk wrote an article along similar lines for The Sun a few days later. However, there is very little truth in these accounts. The reality is very different.
Who was Gerald Vaughan?
Thomas Francis Gerald Vaughan was born on the tenth of January 1915 to Tom Benjamin Vaughan and his wife Lillian née Farrell. He was usually known as Gerald Vaughan. His parents were married on the 31st of March 1909. Gerald's mother had been an actress and his father was Gerald du Maurier's business manager. Gerald was named after his father's employer. Du Maurier was a hugely successful actor-manager in the early part of the twentieth century. He acted in several of J.M. Barrie's plays and was the first actor to play the role of Captain Hook in Peter Pan when it opened in London in December 1904. There are several references to Tom or Tommy Vaughan in Daphne du Maurier's biography of her father.
Lillian gave birth to another son on the 21st of January 1919 and the couple named him John Gilbert. The family lived in an imposing house on the corner of Haverstock Hill and Downside Crescent in Hampstead. 172 Haverstock Hill was used as a convent in the 1960s. It has since been converted into offices and flats, but the outside of the building appears not to have been altered.
Sadly, Gerald's mother died on the twentieth of October 1927 of tuberculosis. She was only 43 years old. Tom Vaughan died in June of the following year aged 58. He may well have had a drink problem as cirrhosis contributed to his death. His two sons each inherited half of his estate which was worth around £ 44,000. This would be more than £ 2,500,000 in today's money.
I have not been able to find out anything about Gerald's early schooling, but he went to the University of Cambridge, probably in October 1933, to study philosophy or Moral Sciences as it was then called. He did not take his degree, but that was not unusual in those days. It is likely that he stayed in Cambridge until June 1936. He, then, attempted to become a sculptor, but this came to nothing.
At some point, Gerald had become fascinated with D.H. Lawrence and, knowing that Lawrence had lived for a while in Tregerthen near Zennor in West Penwith, he moved to the area in late 1936 or early 1937. He rented a cottage known variously as the Carn, Upper Carn or Higher Carn which was about a mile from Zennor and it was while he was living there that he married Ellaline Agnes Norwood on the 21st of January 1937. (The following map is reproduced with the permission of the National Library of Scotland.)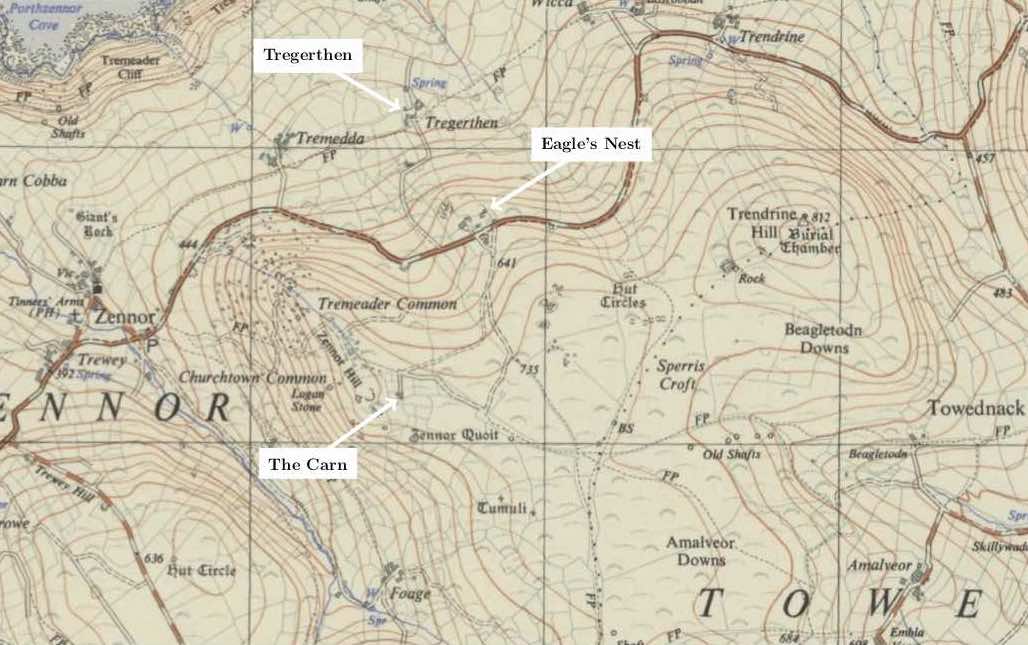 Several sources relate that Gerald and his wife spent several months travelling around Ireland in a horse-drawn caravan, but they do not say when this happened. I think it most likely occurred during the summer of 1937 after which they returned to the Carn. There, Gerald changed his mode of transportation as he bought a car. He parked this illegally on the 15th of December 1937 in Tregenna-place which caused much traffic congestion. He was fined five shillings according to The Cornishman and Cornish Telegraph.
Ellaline gave birth to John Patrick on the 27th of December 1937; he was usually called Patrick (or Patta when a child). It is not clear when Ellaline started to have problems with her mental health, but these got worse throughout 1938. She started to have various sorts of hallucination. In addition to this, it seems that some of the locals were trying to drive the young couple out of their cottage by moving piles of stones near the property and casting strange shadows on the curtained windows on moonlit nights. It is not clear why they did this. It could have been just because Gerald and Ellaline were incomers or maybe their presence there interfered with smuggling activities.
Gerald and Ellaline had become friendly with Katharine Arnold-Forster and Gerald invited Ka to dine with them on the evening of Sunday, the 22nd of May 1938, in order to help ascertain the extent of Ellaline's hallucinations. Some of the things that she heard were genuine, as Gerald heard them as well, but he wanted someone else's opinion in addition to his own. Ka fell asleep after the meal and Gerald let her sleep. At some point, he realised that she was not sleeping, but had died. The local doctor was called and he found that Ka had died of a cerebral haemorrhage. Rather confusingly, the place of death on her death certificate was recorded as Foage Cottage, but this was simply a mistake as the evidence for Ka's death at the Carn is overwhelming.
Gerald, Ellaline and Patrick left the Carn shortly after Ka died and found their way to the Cotswold Bruderhof. The Bruderhof was an Anabaptist movement that stressed the importance of communal living. Members were neither allowed to own anything nor to have their own money. It was founded in Germany in 1920, but many members left as the Nazis came to power. Some came to England were they bought a farm near Ashton Keynes. Gerald and Ellaline joined the community and Gerald gave them all his money. The Bruderhof cared for Ellaline and she seemed to benefit from communal living. She separated herself from Gerald and Patrick preferring to spend her time in the sanctuary of the women's quarters. Gerald learned how to farm during his time with the Bruderhof.
While staying with the Bruderhof, Gerald met Ingeborg Mendelsohn and started an affair with her. When this was found out, they were asked to leave. This was about a year after Gerald and Ellaline had joined the community. During that time, Patrick had learned some German from the community members. Ellaline also left with Gerald and Ingeborg. They moved to Penzance where they were all living together at the time of the 1939 National Register which was a kind of census undertaken just after the outbreak of the Second World War. Gerald at this time described himself as an unemployed farmer
Not long after this, Ingeborg was detained on the Isle of Man as an enemy alien which was ironic as she was Jewish. Brinson and Winckler write (p. 74):
The women's internment camp, on the southern peninsula of the island, was situated in exceptionally beautiful surroundings, the internees being accommodated in the hotels and boarding houses that had previously served the Manx holiday trade.
They add that Ingeborg made friends there and acted in several plays that the internees put on. Ellaline's mental health continued to deteriorate and Gerald was unable to look after her on his own. She needed professional help. To begin with, she was looked after in the Sanctuary in Yorkshire, where her family were from originally, but then she was committed to St Lawrence's Hospital in Bodmin. Gerald sought to become a conscientious objector in early 1940, whereas his brother joined the Fleet Air Arm and was stationed at HMS Raven which was a Royal Navy shore establishment near Southampton. Sadly, John died from injuries he suffered when an aeroplane he was piloting crashed on the 31st of August 1940. Thus, Gerald came into the rest of his father's estate.
Gerald took over a smallholding on Lady Downs near Nancledra just before the outbreak of war. He found it hard to look after Patrick on his own and also to run a farm, so he hired Penelope Ann Walker, usually known as Pip, to look after Patrick. Gerald and Pip fell in love and became lovers. They left to farm at Leswidden, St Just, in September 1942. Gerald had three sons with Pip during his time there. Jasper John Vaughan was born in 1942, Paul Adrian in 1943 and Louis Mark in 1945. All of Pip's sons asseverated that she was an artist first and a mother second. She converted Gerald to anarchism. Gerald moved with his family to Hampstead after the war where he edited the anarchist newspaper Freedom for a while. He had been contributing articles about farming to it for several years. The relationship between Gerald and Pip did not last and they split up in 1947. Pip went to Paris where she met and married the American poet Asa Benveniste. She went on to have a successful career as an artist, illustrator and photographer. Gerald was reunited with Ingeborg whom he married on the fifth of October 1949. Hoyle states that he was declared bankrupt in 1953 and developed a serious drink problem after Ingeborg died in 1975 (p. 68). Gerald died on the third of January 1984.
Request for Further Information
Please email me at antoni.dillerREMOVE@cantabREMOVE.net if you have any relevant information that you would like to share with me concerning Gerald Vaughan or Ka's death.
Bibliography
Baker, Frank, Talk of the Devil [London, Angus & Robertson, 1956].
Benveniste, Pip, The Pink House [La Marsa (Tunisia), Avant Garde Editions, 2008].
Brinson, Charmian and Julia Winckler, "Two Sisters: Contrary Lives", in Marlene Kadar and Jeanne Perreault (eds.), Working Memory: Women and Work in World War II [Waterloo (Ontario), Wilfred Laurier University Press, 2015], pp. 59-84.
Churton, Tobias, Aleister Crowley: The Biography [London, Watkins, 2011].
Diller, Antoni, "The So-called Tregerthen Horror", version 2 (2 September 2019). I mistakenly said that Ka died on the 26th of May 1938 in version 1 of this paper; she died on the 23rd. I am grateful to Jane Winter for pointing this out to me.
Hoyle, Susan, "Renouncing War: The Nancledra Community 1940-1947", chapter 8 of Susan Hoyle (ed.), West Cornwall in the Twentieth Century: Life in Penwith [Penzance, Penwith Local History Group, 2007], pp. 61-68.
Ineson, George, Community Journey [London, Catholic Book Society, 1956].
Jones, Nigel, Rupert Brooke: Life, Death and Myth, second edition [London, Head of Zeus, 2014].
McMay, Michael, "Pip Benveniste obituary", The Guardian, 16 September 2010, available online; accessed 6 July 2019.
Maurier, Daphne du, Gerald: A Portrait [London, Gollancz, 1934].
Newman, Paul, The Tregerthen Horror [St Austell, Abraxas, 2005].
Newman, Paul "The Tregerthen Horror", Fortean Times, FT231 (January 2008), pp. 36–41.
Newman, Paul, "The Unknown Guest", from the online art journal artcornwall.org written to coincide with the Tate St Ives exhibition "The Dark Monarch" which ran from the tenth of October 2009 to the tenth of January 2010; accessed 26 June 2019.
Newman, Paul, The Man Who Unleashed The Birds [St Austell, Abraxas, 2010].
Payton, Philip, D.H. Lawrence & Cornwall [St Agnes (Cornwall), Truran, 2009].
Randall, Ian M., A Christian Peace Experiment: The Bruderhof Community in Britain, 1933-1942 [Eugene (Oregon), Cascade Books, 2018].
Vaughan, Gerald, "Ideology and Literature", Resistance, vol. 7.4 (March 1949), pp. 11-12.
Ward, Colin and David Goodway, Talking Anarchy [Oakland (CA), PM Press, 2014].
© Antoni Diller (31 May 2021)